Oblate (Anāgārika / Anagāriya)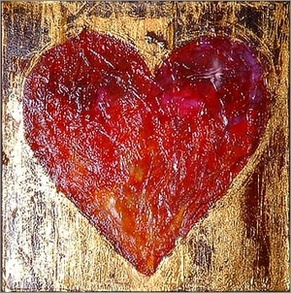 Since the time of Sakyamuni Buddha, lay ministers have served an important role in the spreading of the Dharma. The first notable lay minister was Vimalakirti, and his story is contained in the Vimalakirti Sutra. In the Pratimoksha, an Oblate is a person who feels a strong calling to Buddhist practice and lay ministry. It is a status between monk and layperson where one takes on the Eight Precepts. Oblates wear white clothes or robes and a green waegesa within the Five Mountain Zen Order.

Oblates are individuals, either laypersons or clergy, normally living in general society, who, while not professed monks or nuns, have individually affiliated themselves with a monastic community of their choice. They make a formal, public promise to follow the Rule of the Order in their private life as closely as their individual circumstances and prior commitments permit. Such oblates do not constitute a separate religious order as such, but are considered an extended part of the monastic community.

Role of the Oblate (Anāgārika / Anagāriya)

Oblates often feel a calling to work directly in ministry with the marginalized, the poor, the sick, the dying, the bereaved, the hungry and the imprisoned. Oblates may work in dharma centers, temples, or other Buddhist organizations, where they provide basic instruction and organization in between visits by teachers or monastics. They are not considered teachers but are senior students who help to run the center and lead group practices, along with both providing pastoral care to and officiating ceremonies for their congregants.

Oblates may work as interfaith ministers in hospitals, hospices, nursing homes, prisons, private colleges and universities, private secondary schools, airports, corporations, etc. They would obviously be available for people in these organizations who identify as Buddhist, but their primary purpose would be to serve anyone who comes to them, regardless of their religion or lack thereof. In this sense, they would be like any other interfaith minister, though they could serve a dual role as both an interfaith and a Buddhist minister.

---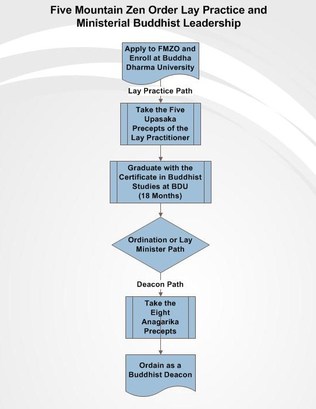 The Eight Precepts: The Sixth Precept:
I vow to be kind to others and refrain from being boastful and self-centered.
The Seventh Precept:
I vow to be generous, to be grateful for what I have, and refrain from yearning for things that do not belong to me.
The Eighth Precept:
I vow to promote harmony and refrain from acting in anger or hatred.
NOTE:
The Eight Precepts are additions to the previous
Five Precepts
.
There are two important aspects of becoming a Oblate:
The first is demonstrating an intention to live in a clear, generous, and compassionate way through the example of the student's everyday life.

The second is realizing the responsibility and relationship to the Sangha by giving back to the Sangha. This is fulfilled through giving talks, instruction and helping the Zen community with unique skills and energy.

When a lay practitioner becomes a Oblate, he or she must obtain a Spring Green Oblate's Waegesa. In addition, the Oblate must dress in Buddhist "Short Robes" while performing formal Buddhist work. (See the local Zen center Guiding Teacher to arrange the purchase of your waegesa and robes).
---