Pūjārī - Priests
---
Rev. Jinji Sunya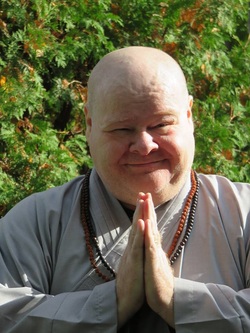 Rev. Jinji Sunya holds a Master's Degree in Buddhist Doctrine and was fully ordained in March of 2014.

He has worked as a teacher at the community college level and in adult education, serving at a downtown homeless shelter. Formerly a freelance music/film writer, Rev. Jinji is a painter and striving novelist.

He hopes that his chronic illness will allow him to soon be of service to the homeless, veterans, and in sustainable urban food strategies. Or at least get him out of the house more often. He lives in Rhode Island with his wife, his cats, homemade musical instruments and (never) too many birds.

Rev. Jinji continues his monastic formation weekly under the guidance of Ven. Dr. Sunyananda Dharma. 
---
---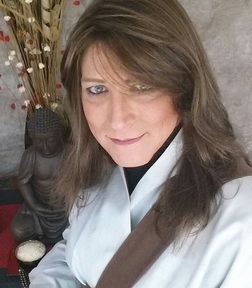 Rev. Jinkong Prajna, MPPA lives in the Kansas City area with her sweet little Silky Terrier, "Shyla". She was ordained a Zen Priest in the Korean Son lineage by Myogak, JDPSN at the True Nature Zen Center Retreat on October 21, 2012. Now ordained with the Five Mountain Order, she teaches meditation, relaxation, and mindfulness, as well as offering support and spiritual guidance on an individual basis, though she intends to form a formal sangha. She is a strong human rights advocate and also hopes to be of service to the LGBT community.

Feeling the effects of a lack of spiritual development growing up, Rev. Jinkong explored many religious orders before entering the Buddhist path in 2005, under the guidance of Lama Chuck Stanford at the Rime Buddhist Center in Kansas City. As she learned more and explored other Buddhist forms, she found that she realized greater benefit from Zen Buddhism and became an independent Zen practitioner. After a period of self-instruction, she became a student at the Prajna Institute for Buddhist Studies and trained with Myogak, JDPSN. During this period, she also practiced Rinzai Zen with Seido Ronci, an ordained monk of the Rinzai-Ji lineage. Rev. Jinkong joined the Five Mountain Order in 2015 and will be finishing her Master's Degree at Buddha Dharma University under the guidance of Ven. Wonji Dharma.

Rev. Jinkong holds a Master of Public Policy and Administration degree from Northwestern University and a Bachelor of Science in Industrial/Organizational Psychology from Northwest Missouri State University. She has also completed half of a Master of Arts in Mental Health Counseling and has conducted extensive independent study of the psychology of personality and behavior. She has been a corporate General Manager for the past 15 years and has recently begun work as a freelance copywriter and consultant. She is also Managing Member of Mandala Institute LLC, an independent organization dedicated to the promotion of human rights and a more compassionate society.


---
---
Rev. Wonmin Prajñā
Thích Hiền Nguyên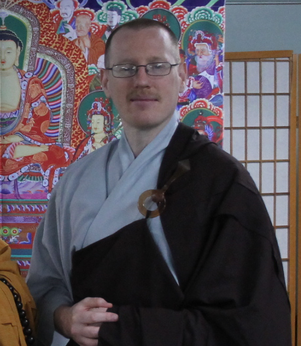 Brother Wonmin Prajñā was first introduced to Buddhism in college in the late 1990's. With no concrete career plans he moved to Asia, and for seven years bounced between Taiwan and China as a teacher. During this time he was able to witness many types of Buddhism in action: from grandiose architectural wonders teaming with monks and tourists; to isolated hill-top temples with a single care-taker monk in old peasant clothing--indistinguishable from anyone else in the mountain top community. It was during this time that he began practicing rather than reading about Buddhism, under the direction of the Lotus Temple in Mianyang, Sichuan.

After earning an MA in Religious Studies, from Stanford University, focusing on Eastern religions, he spent a few more years in China, before joining the Navy as a Hospital Corpsman. He began further study at Buddha Dharma University while in the Navy and began serving as his ship's Buddhist Lay leader over their first deployment. On November 1, 2014 he received vows as a Śrāmaṇera with the Five Mountain Zen Order and is working on putting in a formal package as a Navy Chaplain.

He is interested in the role Daoism played in the development of Zen Buddhist thought and the practical applications of meditation in stress and anger management. He is currently under the guidance of Ven. Wonji Dharma.
---
---
Rev. Anwol Devadipa
Thích Đạo Nguyệt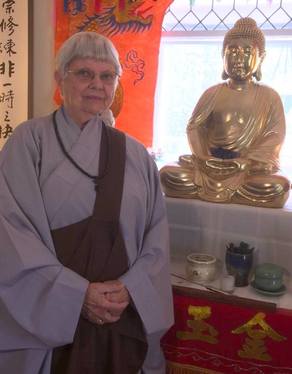 Rev. Anwol Devadipa (Mary Ann Marston) explored many spiritual practices during her life. In 2009 she joined the Shinnyo-en Buddhist Temple in White Plains, NY and studied there until she moved to Central New York state in 2013.

She found the Lotus Heart Zen sangha in 2015 in Oneida, NY, where she quickly became an active and devoted member. In October of 2015 she received Anagāriya precepts, and honored her vows through tireless effort and assistance to the sangha. On June 4, 2016 she received vows as a Śrāmaṇerī with the Five Mountain Zen Order, and received full ordination on July 15, 2017. She currently is Abbot and serves as the Communications Director for Lotus Heart Zen.

Rev. Anwol is a native of New Jersey and a retired geriatric nurse. She spent 10 years with the American Red Cross as a Disaster Services Co-Ordinator traveling througout the United States helping attend to the needs of those in need. She was at ground zero, following the terrorist attack at the World Trade Center in 2001, coordinating relief efforts.

She now lives in Sherril, NY with her husband, Robert. Rev. Anwol is currently under the guidance of Ven. Do'an Prajñā.
---
---
Rev. Mu Sang Prajñā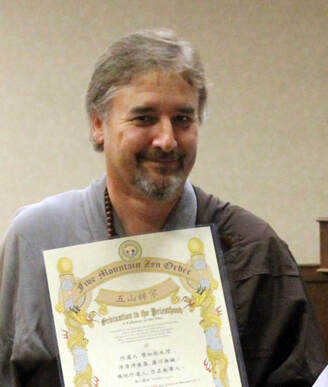 Rev. Mu Sang Prajna (Phillip A. J. Hodgson) holds a Master's Degree in Buddhist Divinity and was ordained in Oneida, New York State by the Ven. Dr. Wonji Dharma. Prior to his joining the Five Mountain Zen Order family in 2014, he practiced Korean Zen in Newmarket, Ontario under Zen Master Mu Chak and in downtown Toronto at the Awakened Meditation Centre with Grand Zen Master Yangil Sunim. He now works as a Registered Psychotherapist north of Toronto in Canada, working with the homeless and people with mental health and substance use challenges. Prior to becoming a therapist, he worked as a Librarian in the England promoting free access to education for all.

​He lives a simple life in Aurora, Ontario with his wife, two children (his teachers) and his dog, following the principles of the Buddha's teachings. Rev. Mu Sang actively continues his monastic practice under the respected guidance of Ven. Dr. Wonji Dharma.
---
---
Rev. Dr. Gwondu Prajñā
Thich Tam Quyen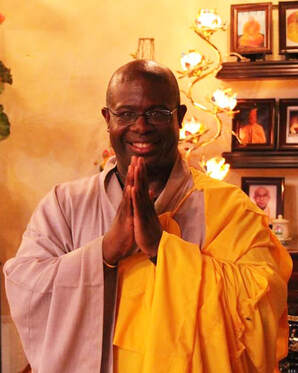 Rev. Dr. Ian A. Cyrus began his Buddhist path 30 years ago with the Nichiren Tradition and later with the Sokka Gakai. He was ordained as a Noviate on July 23, 2016. He was ordained Buddhist Pujari (Priest) on May 30, 2020. He currently leads a Sangha (Meditation and Buddhist studies Group) in Ft. Washington, Pennsylvania.

A native of Trinidad and Tobago, he is a former U.S. Marine and FBI Special Agent. He has earned a B.S. in Sports Medicine and a M.S. in Biomechanics from Temple University and is a certified Athletic Trainer (ATC). Since young adulthood, he has had several long-term apprenticeships under some well-known masters. He is a graduate of the International School of Shiatsu (ISS), and was graduated with honors from the Tri-State College of Acupuncture, New York, NY, where he earned a M.S. in Acupuncture Oriental Medicine and is a member of the advisory board. He was also graduated from Pacific College of Oriental Medicine where he earned a Doctorate of Acupuncture and Chinese Medicine-Integrative Medicine (DACM). He is currently a faculty member at The Won Institute of Graduate Studies. He is the founder and innovator of Oriental Medicine – Physical Medicine (OM-PM), a unique approach to myofascial pain and dysfunction and musculoskeletal pain. He is board certified by the National Commission for the Certification of Acupuncture and Oriental Medicine (NCCAOM). He has been in practice for over 20 years.

Ian is an internationally known martial arts master. He is the lineage holder of Choson Kwon Bup. He has achieved the highest possible ranking (9 th Dan) in Hapkido. He is the founder of Yu Shin HapGi Mu Yae, a unique system of martial arts. He also holds mastership levels in Taekwondo (8 th Dan), Chen Tai Ji Chuan, Yin Fu Ba Gua Zhang, Itto Tenshin Ryu Ken Jitsu.
---
---
Rev. Wonju Prajñā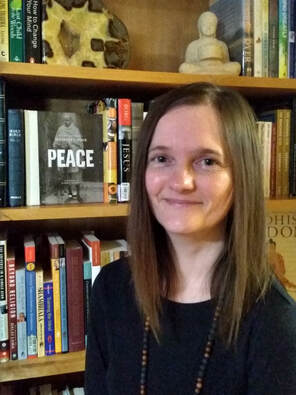 Rev. Wonju Prajñā (Original Action), original name Rose Walker, completed a Master of Divinity Degree from Buddha Dharma University in 2019 and was ordained as a Pujari Priest in the FMZO in May 2020. Rose has been a seeker of truth and a social justice advocate for as long as she can remember. She grew up in Arkansas in a Southern Baptist culture. When looking to the church for questions she had related to her lived experiences of poverty, the deaths of close friends, witnessed discrimination, and other injustices, she found no satisfying answers. She considered herself an atheist/humanist for many years until she moved to Oregon and began reading Buddhist literature. When she came across the Bodhisattva vows, she found deep solace, not only in their humanitarian nature, but also in their call to action in our own lives and in the world: beings are numberless, we vow to liberate them all; greed, hatred, and ignorance rise endlessly, we vow to abandon them; dharma gates are countless, we vow to wake to them; and Buddha's way is unsurpassed, we vow to realize it.

She holds a B.A. in English Literature. She has been working with non-profit organizations for more than fifteen years and is a union and political activist. As a social justice advocate, she continues the real, human, cyclical struggle of drinking from the well of the three poisons and then awakening again to these vows for guidance in the practice of building a more just society. This journey is just that; a practice. As Ven. Wonji Dharma teaches us, aspire to constant effort, but the greatest vow in life is to do no harm.

She is most interested in the Hua-yen philosophy of Buddhism and how we can be more socially engaged, as Buddhists, in helping to build a world that better reflects the true reality of Indra's Net. Her spiritual guides on this path include the bodhisattvas: Rev. Dr. Martin Luther King, Jr., Rev. Dr. James Lawson, Jr., David Loy, Marcus Borg, and Dr. Cornel West, to name a few. She continues to study under the guidance of Ven. Wonji Dharma to whom she is deeply grateful for his selfless and real teaching of the Dharma.​
---
---
Rev. Sahnryong Maitri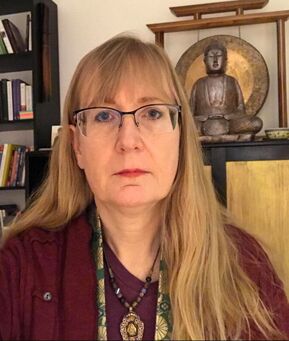 Rev. Sahnryong Maitri (Marian Semic) had her first encounter with zen in the early 1990s when she joined a zazen group organized by Francis Dojun Cook, an author and retired professor of Buddhist studies at University of California Riverside. Some years later, in 2016 she renewed her practice at Single Flower Zen, Claremont, California with teacher Ven. Dr. Myodo Prajna and enrolled in Buddha Dharma University that same year.

In 2019 she started a zazen group and named it "Riverside Zen Center". They meet in a space she had leased in downtown Riverside since 2001. She received her Bachelor's in Buddhist Studies from Buddha Dharma University on May 1, 2021 and took 58 Pujari precepts from Five Mountain Zen Order that same day. She continues to provide a space for the community of Riverside to practice an is working on expanding the center's lending library of Buddhist books.


---