Śrāmaṇera / Śrāmaṇerī - Novitiates
The Śrāmaṇera/Śrāmaṇeri, novitiate, is the preliminary stage one must pass through before becoming a fully ordained monk (bhikṣu/bhikṣuṇī). The novitiate must demonstrate the acumen and the right commitment for a lifelong dedication to Zen practice, then, with the approval of his or her Guiding Teacher, the novitiate receives sixteen precepts at a formal precepts ceremony. Novitiates work under the guidance of a teacher for a period of two years wherein the novitiates continue their practice and formation. At the end of the two year period the novitiate will either proceed to higher ordination as a bhiksu/bhikṣuṇī, renew his or her precepts in a formal ceremony for continued novitiate training, or revert to lay status and precepts. Five Mountain Zen novitiates wear a spring green bangasa over long ceremonial grey robes, while novitiates of the United Buddhist Church wear a three panel yellow kesa over long ceremonial grey robes.
---
Sr. Cheolshim Prajñā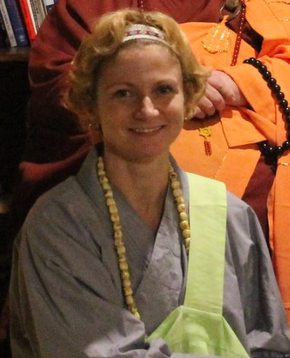 Sister Cheolshim Prajñā first became interested in Eastern religious practice in the late 1980's when she trained in Indonesian style Shaolin-Do Kung Fu under Grand Master Sin Thé. In 2004, she earned a Yoga teacher training certification from the White Lotus Foundation in Santa Barbara, California, under the tutelage of Ganga White, and broadened her knowledge of Yogic philosophy. She spent 1997-2006 as an active duty Army service member. Her time spent in Asia during the military sparked a deeper interest in Buddhism and inspired self-study for many years until her path led to the Five Mountain Zen Order.

Sister Prajñā is a professor of transpersonal psychology in Tempe, Arizona, at a small Christian University, and she studies mystical experience and non-ordinary states of consciousness. She loves nature and spends her free time hiking, staring at trees, mountains, lizards, ants, and listening to bird sounds. She especially loves dogs and poetry.
---
---
Sr. ​Gwando Maitrī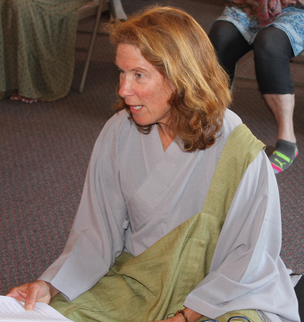 Sister Gwando began practicing at Ocean Eyes Zen Center in 2012 and enrolled in Buddha Dharma University in 2013. She studies with her Teacher Ven. Dr. Jabo Prajna and assists in the running of Ocean Eyes Zen Center.

On the 8th day of April in the year 2017, Cindy Perz (Original Name), Gwando Maitrī 觀道慈(Buddhist Name), Perceive the Way (Translation), took Ten Precepts at Chùa Thiên Ân as an Śrāmaṇerī —Novitiate in the Five Mountain Zen Order.

---
---
Br. ​Hwasoen Maitrī
Brother Hwasoen began practicing at Single Flower Zen Center in 2015 and enrolled in Buddha Dharma University in 2016. He studies with his Teacher Ven. Dr. Jabo Prajna and assists in the running of Ocean Eyes Zen Center.

On the 8th day of April in the year 2017, Oscar A. Ureña (Original Name), Hwasoen Maitrī 花禅慈(Buddhist Name), Meditation Flower (Translation), took Ten Precepts at Chùa Thiên Ân as an Śrāmaṇera —Novitiate in the Five Mountain Zen Order. On the 16th day of April in the year 2016, Oscar A. Ureña (Original Name), Hwasoen Maitrī 花禅慈 (Buddhist Name), Meditation Flower (Translation), took Five Precepts at Danhwa Soenwon as a Upāsakā—Lay Practitioner in the Five Mountain Zen Order.

---
---
Sr. Minhwa
On the 15th day of July in the year 2017, Cui Ye Lee (Original Name), Minhwa 憫花 (Buddhist Name), Compassion Flower (Translation), took Ten Precepts at Lotus Heart Zen Center as an Śrāmaṇeri —Novitiate in the Five Mountain Zen Order.
---
---
Sr. Jinsok Maitri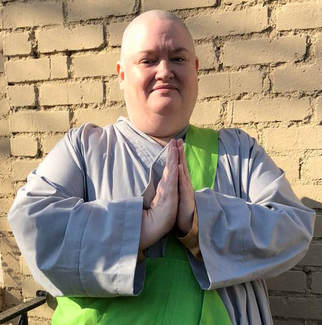 Sister Jinsok Maitri first became interested in studying different religions in 1989, and studied individual religions methodically for several years. In 2005, she decided that Buddhism was the path she was drawn to, and in 2015 she started studying at BDU, and she took her Five Precepts at Chua Tu Bi on June 13th of the same year. She began working with her current teacher, Venerable Jabo Prajna in April 2017 and took her Ten Precepts as a Sramaneri on March 10, 2018 at Adima Prajna Hermitage. She lives in Tulsa, Oklahoma and has devoted herself full time to her studies and practice.

---
---
Br. Songan Prajñā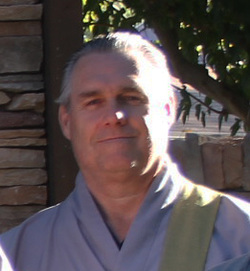 Bio forthcoming
---
---
Sr. Anjin Devidipa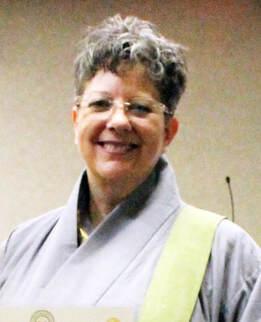 Bio forthcoming
---
---
Br. Dōkō Sattva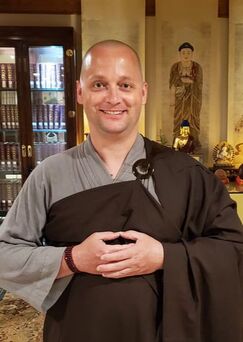 In 2003, I encountered Buddhism and within a short time had signed up for a retreat with Bhante Gunaratana and received the precepts from him. I continued to practice and attend retreats, moving to the Bhavana Society in W. Virginia to study under Bhante G. After leaving the monastery, I started regularly attending Soto Zen group sittings and sesshins. In 2017, through heavy craving and delusion, I ended up in prison, where I continued to practice and study in this raw environment. I started attending and eventually leading the Buddhist group. Looking at how I'd been practicing, I saw that it was mostly all about me and my ego, and that I was causing myself and others greater harm than good. In July of 2018 I received the 16 Bodhisattva precepts from Venerable Zuiko Redding (of the Cedar Rapids Zen Center). Shortly after this, I met Ven. Cheolsoeng and decided to become a novice priest in the FMZO in 2019, so that I could expand and deepen my practice to include more than myself.
---
---
Sr. Yungryeong Prajñā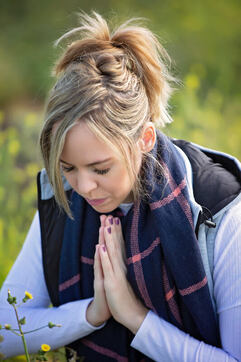 Yungryeong Prajna is from Queensland, Australia, and has been studying online with Five Mountain Zen Order since March 2019, where she begun working online with her teacher, Venerable Wonji Dharma. She took her Ten Precepts as a Sramaneri, on 30th May 2020. Yungryeong has had a flourishing interest in Buddhism since 2002, when she first had an encounter with a Buddhist Nun who instantly calmed her then two-month-old child.

Yungryeong Prajna is consistently active in her pursuit in serving others through her mindfulness and mindset coaching as a spiritual life coach at Soul Status. She is actively practicing the Zen ways and documenting her journey which will one day form a Book that she hopes to publish as a guide to help others find peace and harmony within themselves.
​
---
---
Br. Sangchan Prajñā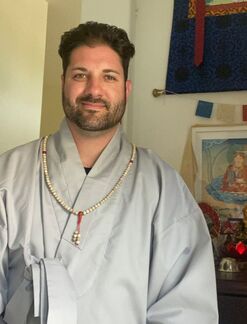 Brother Sangchan Prajñā first became interested in Buddhism in 2007 while studying religion and philosophy while at University. He spent the next few years engaging in individual study and practice until deciding it was time to find a local center to practice with. On December 19th of 2009, Michael Fox formally became Buddhist through the Tibetan tradition with a traveling monk who was visiting Gedatsu Temple. On May 9th 2010, Michael Fox (Original Name), Yeshe Özer ཡེ་ཤེས་འོད་ཟེར། (Buddhist Name), Light Rays of Awareness (Translation), took the 5 precepts of an Upāsakā at Do Nga Dargey Temple. He spent the next several years studying and practicing with local Mahayana and Vajrayana Buddhist Temples. In 2014, Michael Cerezo Fox (Original Name), Gyurme Dorje འགྱུར་མེད་རྡོ་རྗེ་ (Buddhist Name), Immutable Vajra (Translation) found his home in the Tibetan tradition through Chagdud Gonpa where he took vows and continues to practice and attend retreats with his Tibetan teachers. Wanting to get a well rounded education in buddhist traditions and philosophy, he enrolled at Buddha Dharma University in 2019. In 2020 he subsequently renewed his Upāsakā vows with the Kwan Um School of Zen and was named Jok Ji (Buddhist Name), Stillness Wisdom (Translation). On May 30th 2020, Michael Cerezo Fox (Original Name), Sangchan Prajñā (Buddhist Name), Immutable Vajra (Translation), took the Ten Precepts of an Śrāmaṇera Novice Monk with the Five Mountain Zen Order. In 2021 Michael graduated with a Bachelors in Buddhist Studies from BDU, and is currently working towards his M.Div. (Masters of Divinity) in Buddhist Ministry. Michael actively practices in both the Chán and Vajrayana Buddhist traditions and aspires to become a fully ordained Bhikșu with FMZO in the coming years.​
---
---
Sr. Hwamin Citta


Sister Hwamin Citta is from Sri Lanka. She enjoys writing poetry and has written several books on Zen poetry. Her poetry blog is called "Buddhist Poetry." She met her teacher Rev. Eunsahn Citta via a social media platform called Google Plus and was drawn to Zen teachings through posts and chats of community groups. With blessings and encouragement from her teacher and her Theravada teacher she joined the Buddha Dharma University in 2015 to study Zen further, and took her Eight Precepts on 5 February in 2017. On 30 May 2020 she was blessed to receive the ten precepts. Zen has helped her deepen her Vipassana practice and finds that they both complement each other and eventually lead in the end to one path. She realized how Zen Master Seung Sahn's "don't know mind" can be helpful in the practice of Vipassana. She hopes someday to write about her experiences and findings as an encouragement to be fearless about opening up to the Zen traditions and teachings in Buddhism. She is also learning about Tibetan Buddhist teachings and is continuing in her own way to help others find peace and happiness.
​
---
---
Sr. Yungmin Prajna

I am Tiffani, I am called so many things in this life but I am mostly just a little of everything. A wandering being putting one foot in front of the other and trying to remember to pause between steps to enjoy the beautiful journey. I am in the military because I was in search for something greater than myself. I am a mother because I wanted something to call mine. I am a partner because I love feeling loved. I am in search of many things but I came to Buddhism when I finally realized that I am mostly in search of myself. I am a student at BDU because it is what helps me find peace in the journey. Thank you and well wishes to you on your own journey of life.
​
---
---
Sr. Hyeon'ui Sattva​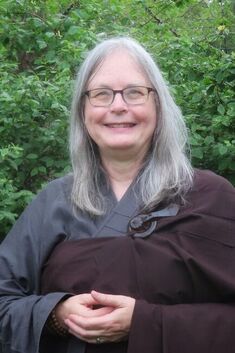 As a member of the Ames Mahasangha, I have deepened my practice and commitment to follow the precepts, study the Dharma, and support the members of my sangha and the larger community. My teacher suggested that this is an appropriate next step for me. I am an active member and leader in our local mindfulness and meditation group and Buddhism study group. Currently, I am participating in Ethan Nichtern's Ongoing Buddhist Studies (in my 3rd year of online class and quad participation) and am at the beginning of studies at Buddha Dharma University.
​
My goal is to become more skillful when I take on leadership in the sangha...and to realize liberation and instruct all creatures.

​
---
---
​​Sr. Shimji Sattva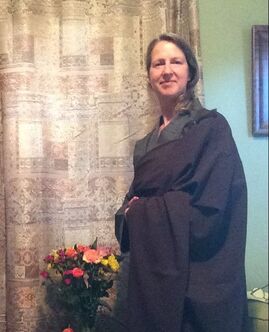 ​I first encountered the Dharma in 1994 with a book in the Theravadan tradition by Jack Kornfield. I continued to study on my own over the years and benefited greatly from subscribing to Tricycle the Buddhist Review, which exposed me to a range of Buddhist traditions.

In 2018 I was fortunate to attend a retreat led by Ven. Cheolsoeng, and with his encouragement I joined the Sangha in Ames Iowa and through FMZO took Five Precepts on April 28, 2018. Since then I have continued to study with Ven. Cheolsoeng and the Ames Sangha and on May 1, 2021 I took the Ten Precepts as a Sramaneri, Shimji Sattva (Buddhist Name) Sincere Wisdom (translation).

I am so grateful to my teacher and the Sangha. Having practiced so long on my own I have immense appreciation for the support of others in the Dharma. The aim of my practice is to realize and embody the teachings in my everyday life.


---
---
​​Br. Kisen Citta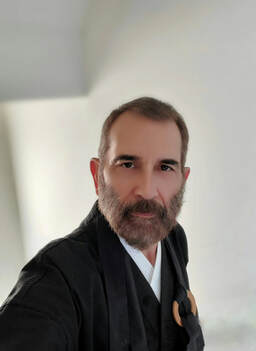 ​Ron (Kisen) was introduced to Buddhism from an early age by his father, who worked for the Jacques Marchais Museum of Tibetan Art. As a young college graduate he became a Peace Corps volunteer in Korea. He took up residence as an expatriot for 15 years, studying and practicing Seon Buddhism as a lay person and raising a family. After repatriating to New York, he took refuge under a Tibetan Lama Pema Wangdak, and subsequently with Cold Mountain Zen, a Linchi school. He studied for priesthood in Clear Mind Zen, a Soto Zen lineage founded by Rev. Dr. Soyu Matsuoka-roshi (1912-1997), and led a meditation group in New Jersey. Ron sat Zen with Original Mind Zen in Princeton, New Jersey under Andre Halaw for several years and in April 2021 took refuge with Original Mind Zen. He is also an Old Time musician, playing fiddle and other string instruments in the tradition of Old Time Music, a traditional Appalachia rooted American art form. Ron follows a path of Ahimsa, social justice and Veganism.
---
---
Sr. Shim'min Sattva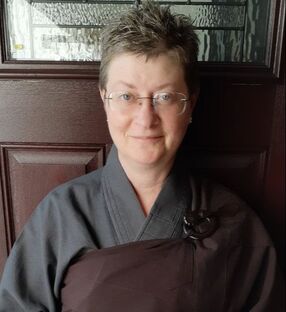 I am Faith Winchester, and I began practicing with the Ames (IA) Mahasangha around 2006. Over time my interest in Buddhism grew and developed with guidance from Ven. Cheolsoeng and the support and encouragement of our meditation group. Taking the first Five Precepts was a big step for me in affirming the importance of this path in my life and my commitment to deepen my studies and practice in order to serve others. I took the Ten Precepts as a Sramaneri on May 1, 2021, Shimmin Sattva (Buddhist name) Sincere Compassion (translation).

I work in the printing industry and live in central Iowa with my husband. We enjoy camping, biking and traveling, and I love to cook, garden, and go exploring around Iowa with my friends.

​
---
---
Br. Min'ui Maitri​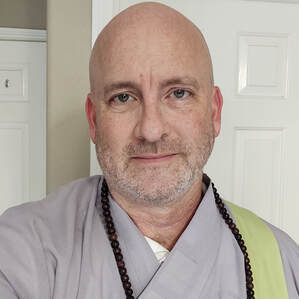 Br. Min'ui Maitri ordained as a Sramanera in the Five Mountain Zen Order on May 1, 2021. His interest in Buddhism began over 30 years ago when he took a course on Eastern Religions while in college. His meditation practice began in earnest about 10 years ago, leading him first to the practice of Pure Land Buddhism and Five Precepts under H.T. Thich Quang Dao, and eventually to the Five Mountain Zen Order where in 2016 he took Five Precepts under Most Venerable Wonji Dharma, with Ven. Myodo Jobo as his guiding teacher. Also in 2016, Min'ui began a study of the Pali Canon under the tutelage of Ven. Manakada Khemananda. For several years, Min'ui was lost in a world of dualist thinking and unable to find harmony along this bifurcated Buddhist path as he attempted to merge Theravada teaching with Zen thinking-- a path he now affectionately calls "Saffron Zen." One day in early 2021, Master Myodo taught Min'ui a lesson that changed his whole way of viewing the Dharma: "All paths lead up the mountain when one's intention is pure." In one sentence from a great teacher, bodhicitta was born in Min'ui's mind, and his whole view of the Buddha's teachings changed. Min'ui enters the Novitiate now with the singular mind of helping save all sentient beings through Five Mountain Zen Order's uniquely American approach to Buddhism.
​
---
---
Br. Jiguang Sattva​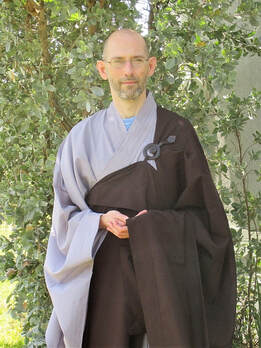 Andrew A. (Buddhist name: 智光性, Jiguang Sattva, translation: Wisdom Light) started his Buddhist journey many years ago upon encountering, on printed page, the sharp, cutting, uncompromising, yet also healing and illuminating wisdom of Zen koans. Other Buddhism-infused cultural phenomena, such as Chinese Tang poetry and Japanese haiku, the music of shakuhachi, Tai Chi and Aikido, and ink paintings of Zen masters served as additional conduits, through engagement with which he broadened and deepened his practice and commitment.

Brother Jiguang has been primarily a solitary practitioner, drawing non-discriminatingly on the literature of many Buddhist traditions and equally appreciating a chance to visit to a Thai wat and a Shambala meditation group, as the circumstances allowed. He also made deep incursions into other religions and there encountered people whom he will forever consider his teachers and spiritual friends. He made mistakes, wandered down blind alleys, and discovered, numerous times, that what seemed to be an achievement was, in fact, an invitation to climb out of and learn from another trap laid by mind in the grip of ego-based concepts.

In 1995, Br. Jiguang gratefully accepted the opportunity to take five laymen vows with Ven. Hung I at the Jade Buddha Temple (Zen/Pure Land) in Houston, TX. In 2019, Br. Jiguang discovered the Five Mountains Zen Order and enrolled in its Buddha Dharma University. After almost two years of studying, he felt the conditions were right for him to start working with a teacher and to take the next step on his Buddhist path by accepting the commitment of a novitiate priest. On May 1, 2021, under guidance of Ven. Dr. Cheolsoeng Prajna, Br. Jiguang took ten Śrāmaṇera precepts with FMZO.

Amid total silence
and the most unfathomable din
the no-sound of the bell with no form
unfailingly calls all beings to liberation.

​
---